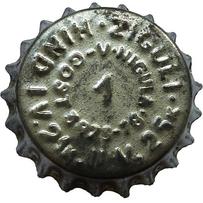 Embossed steel. Embossed outside. Beer. Zhigulevskoye. Production period: 1979-1983.
Inscription on cap: along the outer circumference: "Ziguli Hind I V. 21k. II V. 25 k.", along the inner one: "V-Nigula GOST3473-78".
This cap differs from EE000101-1001 by having the inscriptions at a different angle as well as by having a dash between "GOST" and "V-Nigula".
© Image by Maxim Gaevskiy