At the end of the calendar, it's a good time to strike a balance. I'm very glad that interest in this project continues to rise. Though we also have an English version, according to statistics most of the visitors come from the former USSR, and we will support a dual language interface in future despite the fact that it takes some extra effort to do so.
In this year we have accomplished a great work with Alexei Shiyakin (username Desparate) as editors, and the result is a much more complete catalog! We get great responses from many collectors who submit their corrections and additions. We have been able to work with a new routine now that we don't need to process large amounts of information any more. Now it is a more manageable day-by-day work, posting the small modifications to the database. It looks something like a conveyor belt: a steady flow of alterations come in and are posted in a reasonable time. The main thing for today is to continue the work.
Also, at least we have been able to present a new feature of our website: personal collections. It's an important event because the person who stores the information about his collection in our system has to correlate it with the catalog; this helps us to find more errors in it to fill in blank spaces while the collector can correct errors in his own information. As a result both the catalog and the collector benefit. We don't have many collections yet, but I hope we will be able to attract more people soon.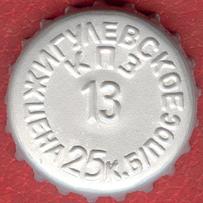 What will be the next step? We will continue to improve
the catalog
. I am thinking of rescanning most of
my collection
with a bigger resolution. Usually I scan
my collection
in resolution of 200 dots per inch
, but in the
catalog
I'm trying to use pictures at least 2.5 times larger (approximately 500x500 pixels). This looks really great! For an example, take a look (click on the cap to open it in full size):
When I overcome my laziness, I rescan my own collection of Soviet caps)))
I'm also glad the catalog recieves very rare new breweries, such as ЖПЗ or Zaporozhye. I hope for future discoveries!
So, fellows, I want to congradulate all af you, editors, collectors, our translator Donn Neal, our visitors! Marry Christmas and Happy new year!