Cherkozovsky Dairy Factory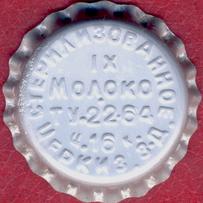 Embossed aluminum. Embossed outside. Dairy product. Production period: 1964-1968.
Inscription on cap: around: стерилизованное Черкиз. з-д., in the middle: IX Молоко ТУ.22.64 ц. 16 к.
For the moment IX is the only known cap. No used caps found. Probably it was not used for bottle sealing. Looks like Mozhaysk caps, similar to steel variation RU420201-1007 in particular.
© Image by Art Zhitnik