Sverdlovsk winery Rosglavvino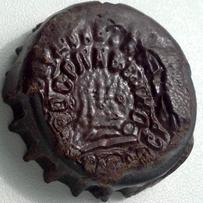 Cap type - With sealing wax. Vine. Production period: 1951-1958.
Inscription on cap: along the inner circumference: "Росглаввино". In outer text, on the top we can read part of a word "...верд...". This cap was found near Ekaterinburg, so it most likely "Свердл..." (may be "Свердловск" or "Свердвинзавод"). On the bottom part "РСФСР" (Russian Soviet Federative Socialist Republic).
© Image by Vyacheslav Morozov